Unlocking the Power of Snowflake: BBI Attains Select Tier Status
By
John Y Miller
·
1 minute read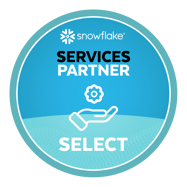 We are excited to announce we have achieved Snowflake's Services Partner Select Tier status, reaffirming our dedication to innovative data solutions and our commitment to helping businesses harness the full potential of their data.
Strong In-House Snowflake Expertise
We have a dedicated Snowflake team in-house, comprised of certified experts who have honed their skills through hands-on experience with the platform. This expertise enables us to provide comprehensive support, helping our clients streamline their data management, storage, and analysis processes.
A Suite of Snowflake Services and Accelerator Projects
To serve our clients more effectively, we have developed a suite of offerings designed to address the unique data challenges that businesses face in the modern world.
Some of the services we offer include:
Snowflake Implementation and Migration: Our team helps you seamlessly migrate your data to Snowflake, ensuring minimal disruption to your operations while maximizing performance and security.

Snowflake Performance Optimization: We fine-tune your Snowflake instance to ensure it runs at peak efficiency, providing faster query results and cost savings.

Data Integration and Transformation: We help you integrate and transform your data, ensuring that it's clean, reliable, and readily available for analysis.

Security and Compliance: We implement best practices to secure your data and ensure compliance with industry regulations and standards.
In addition to our core services, we have developed a series of accelerator projects that expedite the implementation of Snowflake and allow our clients to achieve their data goals more rapidly. Whether you're a startup looking to scale or an established enterprise seeking to modernize your data infrastructure, our accelerators can help you get there faster.
Understanding the Pain Points of Data-Heavy Businesses
Data is the lifeblood of every successful organization, and we understand the unique challenges that your business faces. From data volume, to quality, to controlling costs, we are committed to staying up to date on the latest platform updates that will help you scale.
As we look ahead, our focus remains on helping businesses access and extract value from their data more efficiently. If you'd like to learn more about how BBI can help your business, please get in touch.