Partners
Snowflake at BBI
We bring agile data practices and capabilities to your Snowflake implementation or migration.
Snowflake Services
As a Snowflake Services Partner, we offer acceleration at every step of your Snowflake journey.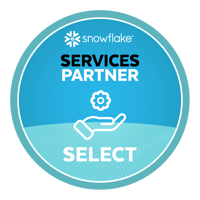 Quick Start
We hold a series of working sessions with your team — each session starts with objectives and instructor-lead discussions. We then quickly gets into hands-on design and configuration of your Snowflake environment. Topics include unstructured data management, data ingestion and transformation, data governance, cost monitoring, and more.
Duration: 2 weeks
Outcomes:
Ready to start developing your first use case.

Internal team upskilled on Snowflake development.

Faster implementation and time to market.
Snowflake Strategy
Measure twice and cut once. Our in-depth strategy services ensure that your Snowflake implementation aligns to your business goals and helps you avoid costly mistakes.
Duration: 6-8 weeks
Outcomes:
Readiness assessment.

Recommendations based on best practices, customized to your unique business needs.

Architecture plan.
Snowflake Best Practices Categories

Account Strategy,
Logical Environments and Data Architecture

Database and Storage
Management

Role Based
Access Control (RBAC)

Virtual Warehouse
Management

Cost Management and Monitoring

Identity and Access Management (SSO/SCIM)



Moving to Snowflake
Modernize your platform by moving to Snowflake. Our DevOps, SRE, cloud, and Snowflake experts are with you every step of the way, maintaining the highest standards of security and data quality.
Duration: Situation-dependent
Outcomes:
Migration assessment

Implementation plan

Application build and maintenance
Snowflake Assessment
We offer a holistic Snowflake Assessment, aimed at uncovering existing gaps and reducing technical debt. We deliver this engagement as a series of working sessions. Each session starts with objectives, followed by a review of best practices and then a walkthrough of your setup.
Duration: 4-6 weeks

Outcomes:
Detailed findings that enable your data team to understand existing design gaps

Recommendations on how to address current challenges

Upskilling your internal team on Snowflake system design
Interested in learning more about our services? Let's talk.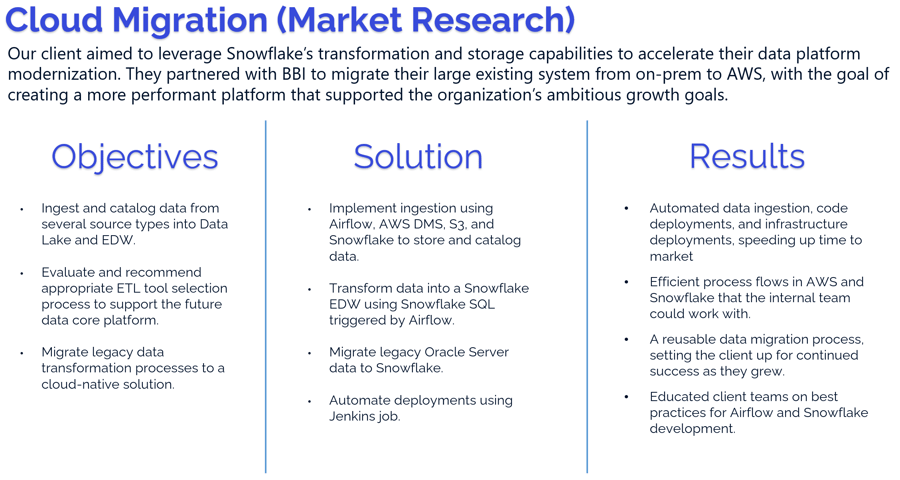 Cloud migration with Snowflake and AWS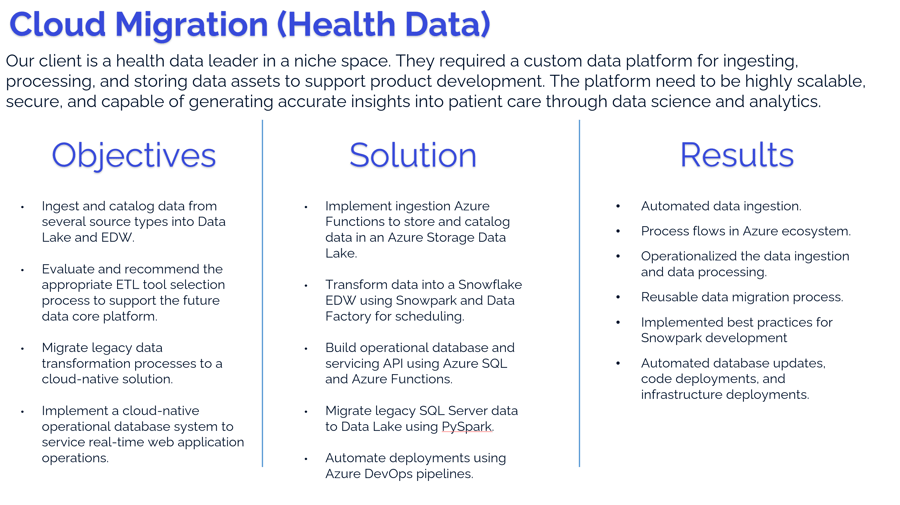 Scaling with Snowflake and Azure