Welcome to BBI

By
BBI Leadership
·
2 minute read
As we recently pointed out, every company is now a data company. We believe that unified, usable data is the key to unlocking real growth. This requires cutting through the noise of trends and booms—focusing on a strong engineering foundation and scalable, elegant solutions.
Our engineers are artists, crafting solutions with care and thoughtfulness. The true art of engineering lies in the ability to create products that inspire pride. In this post, we invite you to learn more about the heart of BBI, and why that strong foundation is so important.
Complex Business Problems, Simply Solved
Data exists to provide value, but it cannot do so without a fluid system that focuses on actionable insights. Just as a pipe in your home must be clear to allow water to flow without leakage, data must flow seamlessly. We specialize in moving data from point A to point B, managing complexity with pragmatism.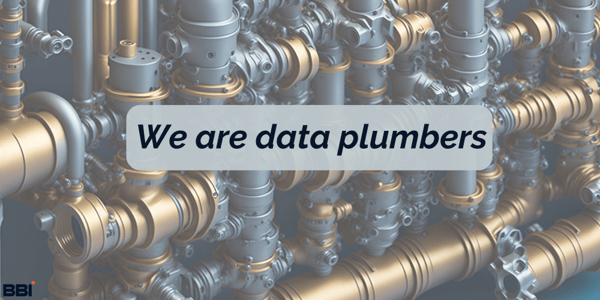 This is true across industries. In retail, we help integrate data from specialists, clinics, and hospitals to make it usable for primary doctors. For IoT projects, we assist warehouses in tracking HVAC systems and extracting valuable insights from sensor data. In the financial sector, we gather data from various sources to calculate credit scores, ensuring compliance and accuracy.
Simplicity is key to usability, and is one of our core values. We build systems that work efficiently and intelligently, so our clients don't have to worry about them, and they remain highly adaptable.
Adaptability is Nonnegotiable
In a world of constant technological evolution, adaptability is key. New tools and technologies emerge regularly, and you must be ready to take advantage and experiment. To do so safely, your foundational architecture has to be well-crafted and resilient. You should be able to trust it is working, so you can focus on keeping your competitive advantage.
Our expertise is rooted in that foundation, with a deep respect for data engineering fundamentals.
Foundations of Excellence: A High-Level View
Our approach revolves around three critical foundations:
Data Management: This encompasses data governance, pipelines, quality, and acquisition. We ensure data collection is systematic and efficient, meeting the needs of multiple sources and timetables. We uphold the highest quality standards, validating data before storage and maintaining strict controls over the validation process.

Infrastructure: Whether on-prem or in the cloud (or both), your infrastructure must be solid. We follow DevOps best practices to ensure efficient and secure system operations. We also work with all major cloud platform providers, staying on top of all the newest tooling and updates.

Analytics: All data-driven organizations need their data analyzed and presented in a way that enables quick and productive decision making. This can include modern Business Intelligence (BI) platforms, elegantly constructed data analytics frameworks — built with your unique business goals in mind.
Engineering as Art
At BBI, our dedicated teams are passionate about designing systems that bring real value to organizations. We are driven by our artistic approach to engineering, crafting solutions that ignite change and yield tangible results.
Join us on our journey towards a more interconnected future, where data serves as the catalyst for transformative advancements. Together, we will create something truly extraordinary.