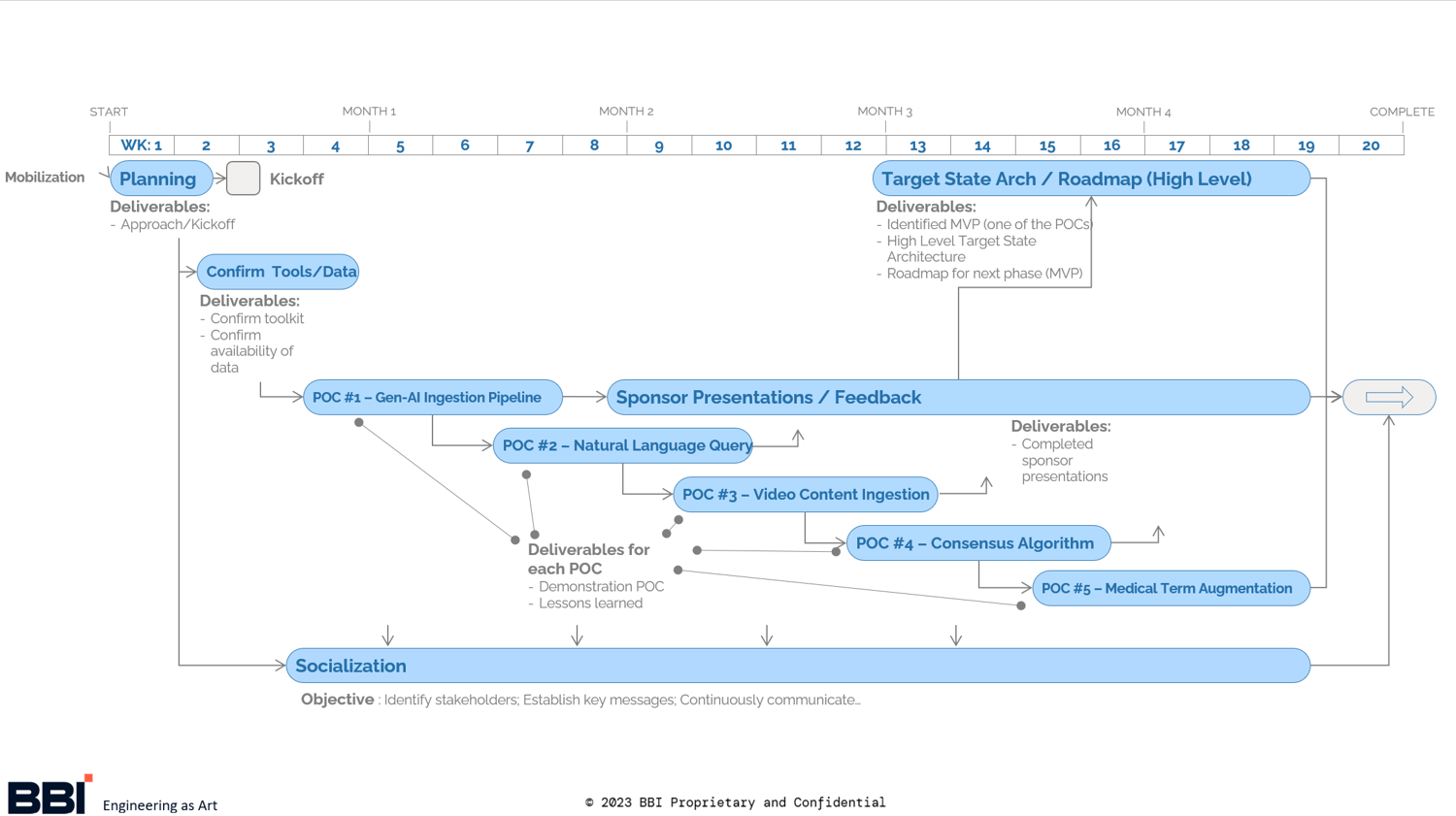 Expert Guidance
Our engagements take you from planning to Proof-of-Concept (PoC).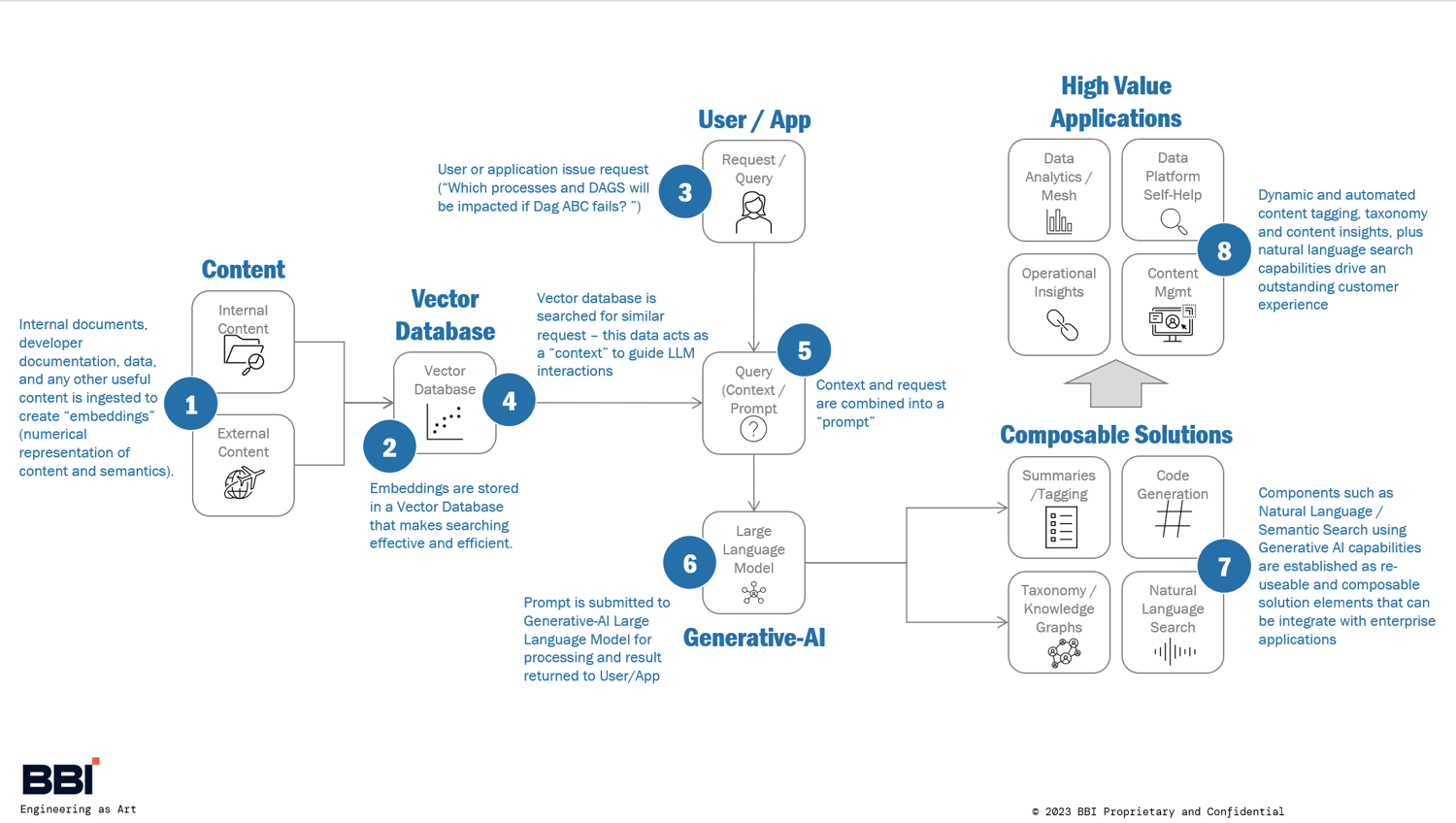 Retrieval Augmented Generation (RAG)
Most GenAI projects start with taking your data and using it with a Foundation Model (LLM). This architecture pattern is called RAG.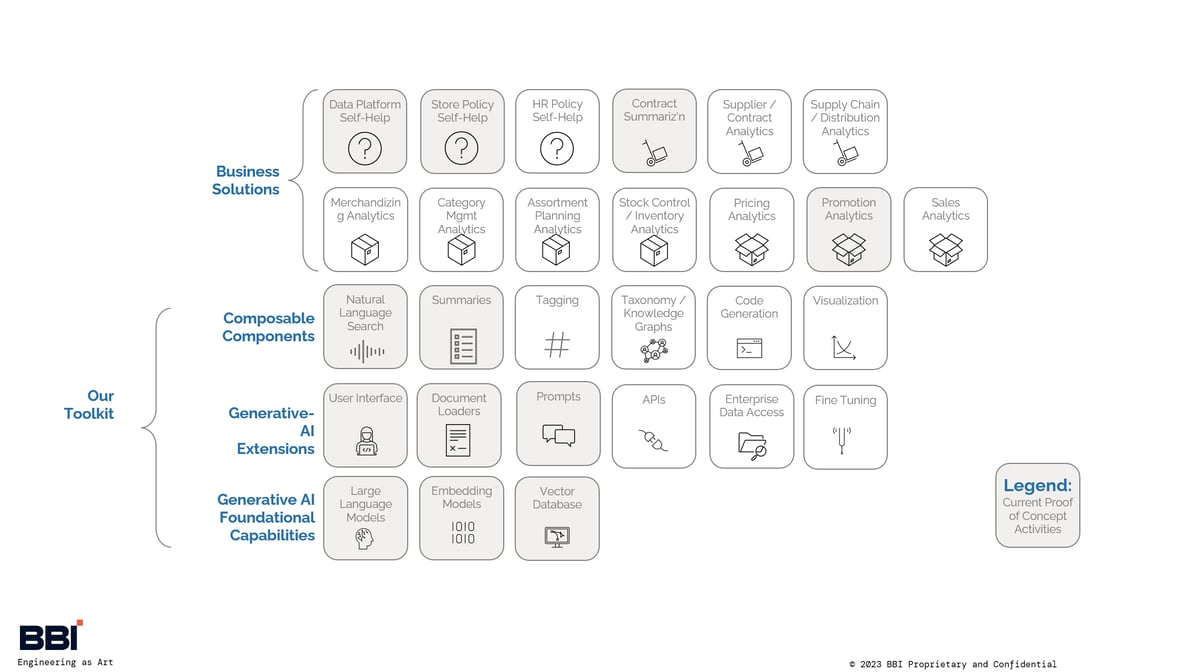 Business PoC
Our toolkit accelerates building business solutions using the latest GenAI features and capabilities.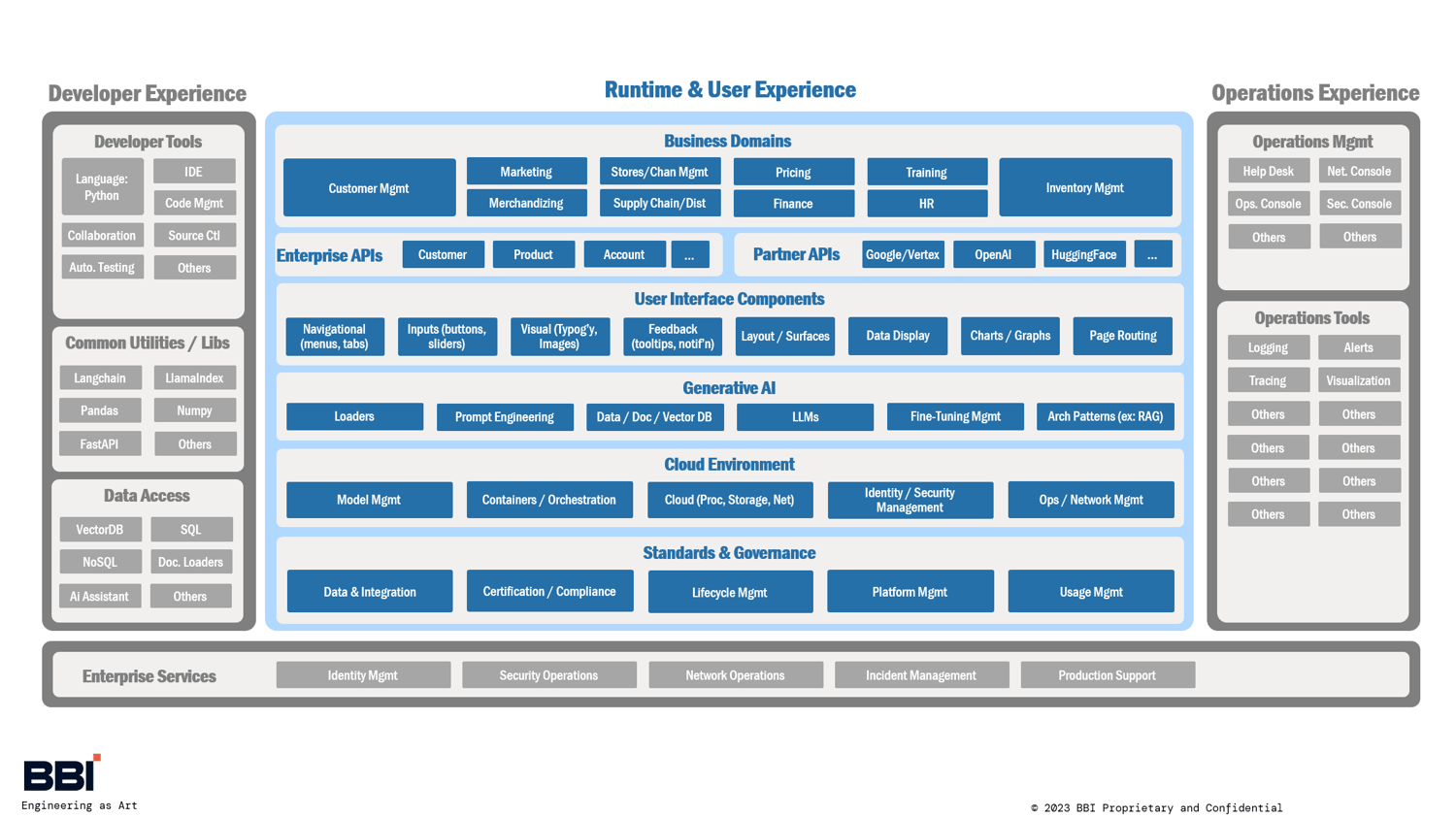 Target State Architecture
Our customized architecture provides a robust starting point to define gaps in your current technology landscape and a roadmap to address those gaps. When building, we consider the experience for the developer, the user, and operations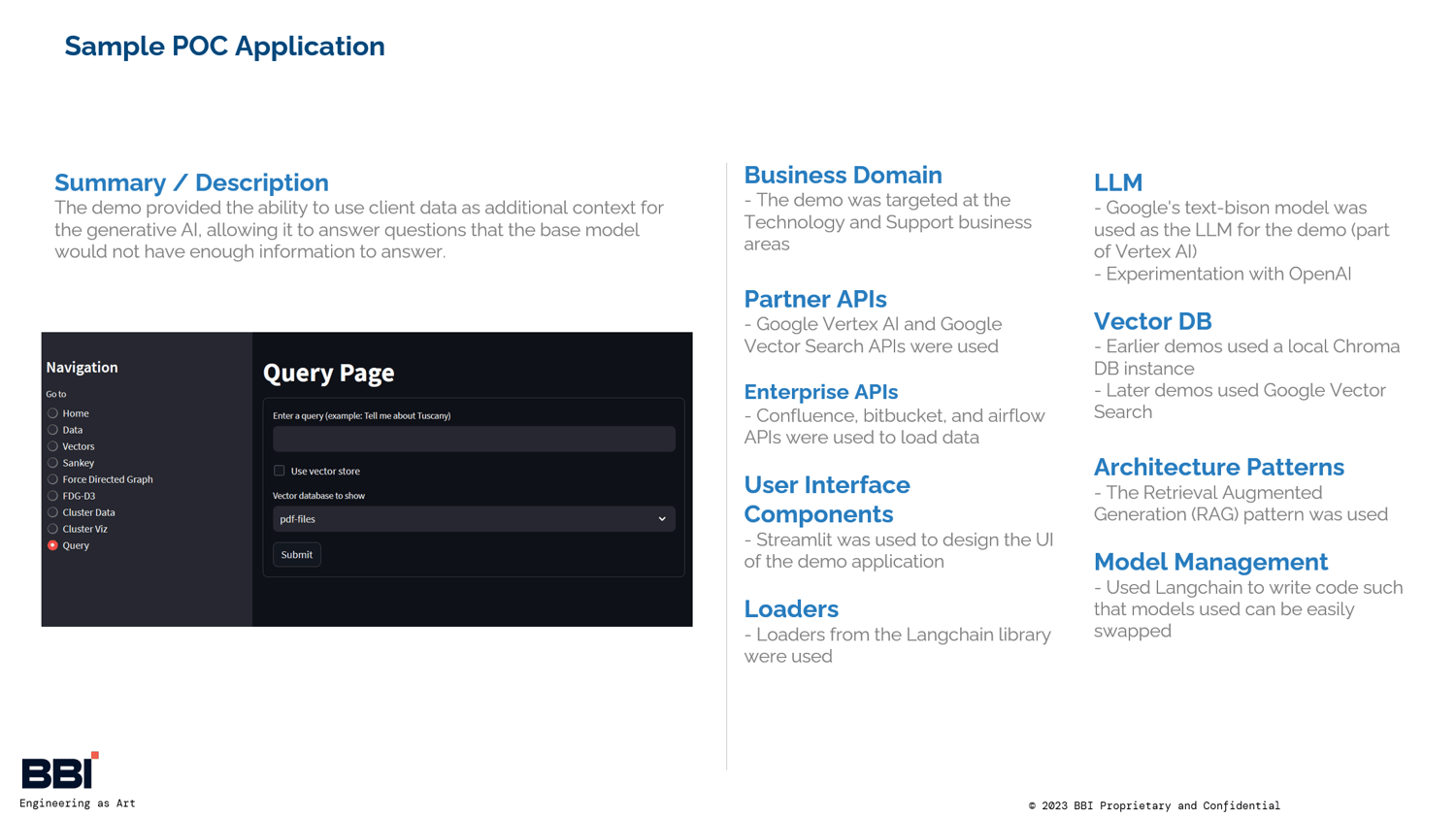 Sample PoC
In this client project, we built a PoC for enterprise search.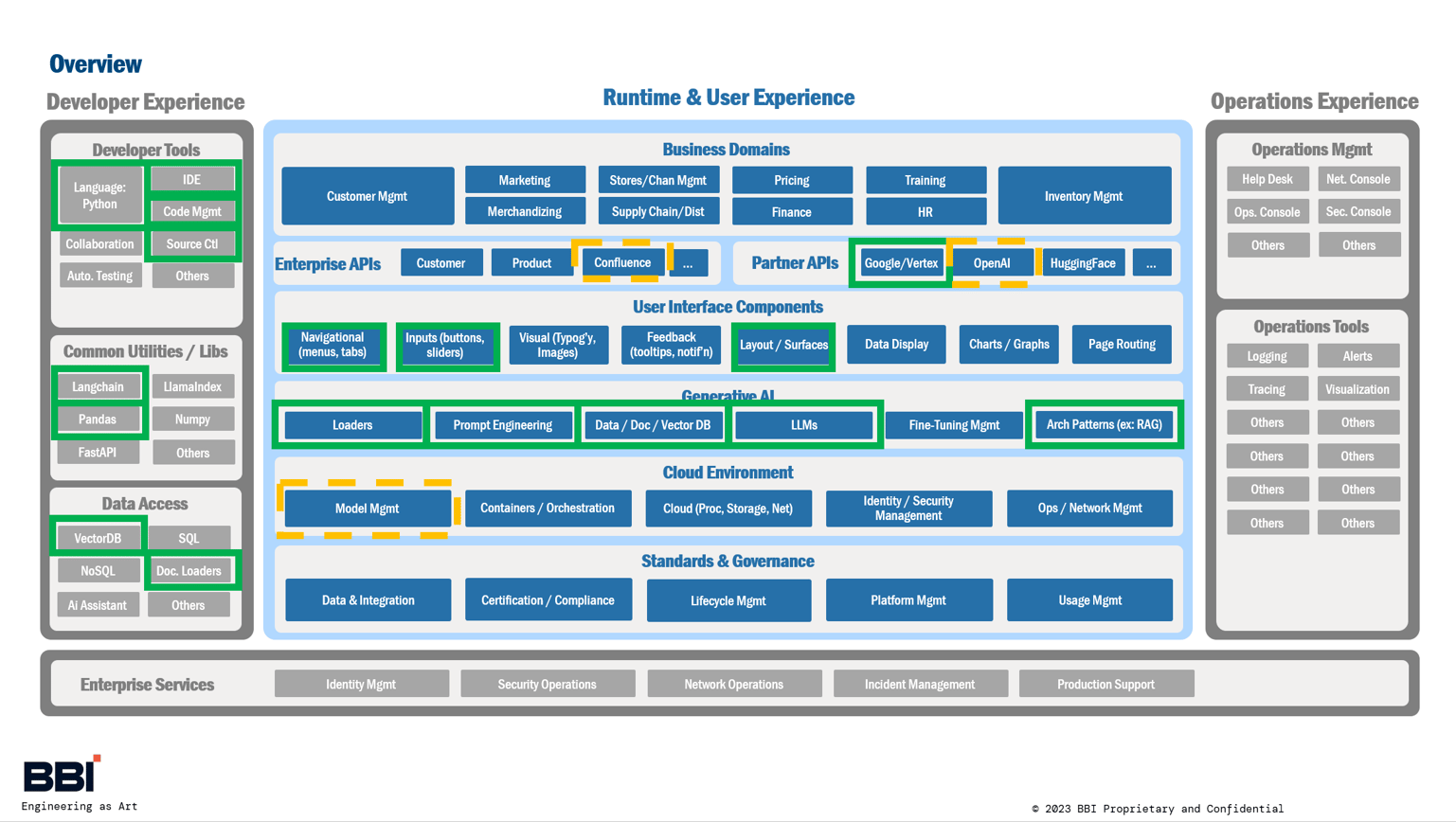 Sample PoC Architecture
Our architecture in this project testing a variety of GenAI components.
Generative AI Accelerator
Jumpstart your GenAI journey with our accelerator project. We take you from brainstorm, through design, and help build a plan to make it real. Learn more about each stage below. Learn more about our suite of accelerators here.
Step 1: Ideation

Brainstorm with key stakeholders (Business and Technology) around potential AI use cases.

Identify the most feasible use cases that align with your business goals.

Collaborate to create a custom GenAI adoption roadmap.
Step 2: Proof of Value (PoV)

Based on GenAI adoption roadmap, choose your first GenAI use case and build a

PoV

.

At a high level, showcase integration of your GenAI solution with your upstream and downstream systems.
Step 3: Design

Design a solution that meets your specific business needs and deployment requirements.

Incorporate industry best practices to ensure that your solution is scalable, efficient, and secure.

Provide blueprint for an AI solution aligned to your organization's objectives.
Step 4: Path to Production

Host a demo day to showcase your GenAI

PoV

to your stakeholders.

Explore immediate opportunities to expand and scale your GenAI solution.

Brainstorm ways to expand to other use cases.
Accelerate Your Business Growth
Interested in a GenAI project? Let's talk.